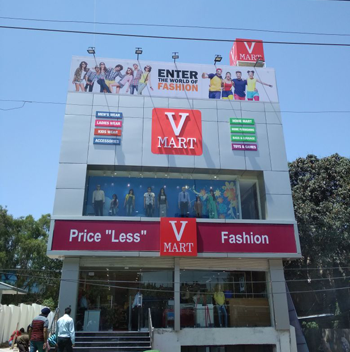 Fashion retail chain V-Mart, which is known for taking organized retail to tier-II & III cities opened its first store in Jammu, the winter capital of J&K, taking the number of stores in the state to four. Spread over 9,300 sq ft, it promises to fulfil the fashion needs of an entire family under one roof at best prices.
"We are thrilled to announce our store launch in Jammu, J&K," Chairman & Managing, Director, V-Mart Retail Ltd, Lalit Agarwal said. "After getting a very good response from our existing stores in Srinagar, Udhampur and Kathua, we are proud to launch our 1st fully air conditioned fashion store in Jammu. We look forward to staying true to our promise of offering the latest and the widest fashion range at unmatched prices." He added that the company plans to launch more stores in the state.
V-Mart is dedicated to providing price less fashion to consumers in Tier-II and Tier-III cities, with little or no penetration of modern retail. "We are sure that the new store will also prove to be a milestone in our endeavor to take fashion to the nooks and corner of the country providing customers true value for their money which has helped V-Mart to build the relationship with millions of families across the country," said Snehal Shah, Sr. Vice-President, Marketing & Operations, V-Mart Retail Ltd.
Jammu is a fastest growing city with high awareness about fashion and latest trends. Consumers in the city are looking for an organized fashion store which can provide the elusive combination of best quality fashion at best prices. It is this very gap that V-Mart wishes to fill and meet the consumers demand.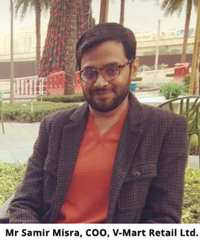 In another development at the company, the board of directors at V-Mart Retail Ltd. announced the appointment of Samir Misra as its Chief Operating Officer. He will be responsible for spearheading the development and execution of long-term strategies with the goal of increasing shareholder value.
He has 15 years of multi-faceted industry experience with some of the country's leading retailers and brings with him deep understanding of the Indian consumer mind-set, subject knowledge in product differentiation and innovation & savoir-faire of rapid business scale up and expansion.
In his last assignment he has helmed leadership roles at Aditya Birla Group for brands like Pantaloons & The Collective.