The Seawoods Grand Central (SGC) Mall, located at Navi Mumbai, plans to unveil phase-II of SGC Mall by early 2019 and has set a target to increase its footfalls to 10 lakh per month by 2020.
Under phase-II, which is being constructed above Seawoods Darave station, 30 retail stores will be added to the existing 300 stores. Among the key attractions to be added under the new phase are the largest multiplex in Navi Mumbai and a huge family entertainment center of international standards. The second phase will also consist of a number of well-known restaurants, cafes and other hospitality brands.
The shopping mall, which has already created 3,000 jobs for the locals of Navi Mumbai in its very first year, is confident of providing more such opportunities when its second phase becomes operational. Identifying local talent and giving them opportunity has always been a priority at SGC Mall and the mall aims to continue the same going forward.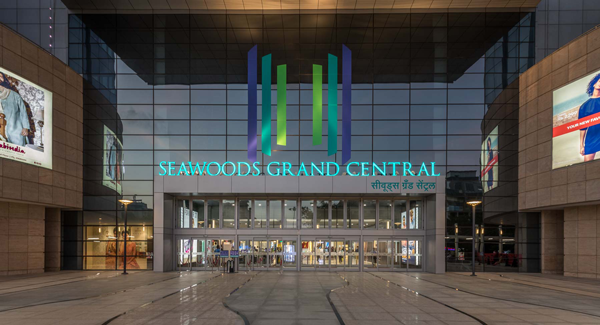 "Seawoods Grand Central Mall was set up with a specific goal — to transform the mall experience for the people of Navi Mumbai and offer unique and world class shopping and entertainment options to all our visitors. Going forward, we will continue to raise the bar and provide our valued customers with the best of options and widest of choices across all our business segments including retail, entertainment and hospitality," said the mall's centre head Nilesh Singh.
Seawoods Grand Central (SGC) Mall, located at Navi Mumbai, is a part of Nexus Group of Malls. Nexus Malls is a fully owned subsidiary of the Blackstone Group, world's leading Private Equity firm.
The 4 storied (Ground + 2 with a Lower Ground floor) mall houses 300 retail stores and a food court to accommodate 1200 people at once. The mall boasts of a three level basement car parking to accommodate 2800 vehicles, largest amongst all malls in Mumbai metropolitan region.
Besides being directly connected to the Seawoods railway station, the mall is 5 minutes from Belapur CBD, easily accessible through the 8 lane Sion Panvel express highway and closer to proposed Navi Mumbai Metro corridor.