January - February 2019
Today, people buy the experience of purchasing a product or a service as much as they buy the product itself. Experience involves everything from technology, lighting, ambience and service to the UI-UX on the website or app.

Consistent, delightful experiences are the definite ways to capturing mindshare as well as market-share. The Experience Special issue aims to address all the areas in the purview of Customer Experience, giving retailers insight into what will drive customer-experience going forward, how will it get redefined, what makes shopping pleasurable, and more.
Click here to download this issue
November - December 2018
Historically, man has always used visuals to tell stories, right from cave paintings to modern day cinema. Retail brands have learnt to encapsulate this intrinsic human nature of using visuals to tell stories in their stores, setting themselves apart from the competition. Visual Merchandising (VM) has grown from designing windows to designing experiences for customers.

Step into STOrai to witness the Evolution of VM.
Click here to download this issue
September - October 2018
To stay relevant it is the need of the hour for organisations to be able to constantly change with the changing world to stay relevant to the consumer, who is constantly changing too. The imperative is for organisations to be agile so that they can adapt quickly to the changes in market forces. What does agility mean, what are the salient features of agile organisations? To know all this and more, download the full issue
Click here to download this issue
July - August 2018
Anticipating changes in technology and other market forces is important. However, what's more important is to understand how the customer will change. Because ultimately consumers are the mainstay of a business. Preempting changes in consumer behaviour and other attributes can help retailers prepare accordingly. Read on to get introduced to the consumer of the future.
Click here to download this issue
May - June 2018
Advanced technologies such as Artificial Intelligence (AI), Virtual Reality (VR), Augmented Reality (AR), Drones, Advanced Analytics coupled with The Internet of Things are helping make retail business smarter than one can possibly imagine. Together, they are helping create magic at different touchpoints, gather insights rather than data, connect with consumers to create something that is not just meaningful for them but also for the business. This issue focuses on helping retailers understand all that is smart and cutting edge in retail to become smart. Consumers are getting smarter by the day. It's time retailers catch up too. Dive right in...
Click here to download this issue
January - February 2018
Former executive chairman and CEO of Cisco John Chambers has warned that as many as 40% businesses may not exist in a meaningful way in the next 10 years if organisations fail to make customer centricity a part of their DNA. The good news is most retail companies understand the need. The bad news is that they fail to understand its urgency. This issue will help you understand why the hype around customer centricity, how it helps retailers and how you can take taking it and your business to a whole new level. Dive in…
Click here to download this issue
November - December 2017
Innovation doesn't always have to do with technology or require top dollar investment. There are plenty of examples closer home that testify this. This anniversary issue we bring you some such innovations. These retail companies have not necessarily invented something but have approached the mundane from an out-of-box perspective.

They have applied innovation in places and areas one would least expect. Curious? Read the issue!
Click here to download this issue
September - October 2017
The digital mindset has permeated every aspect of an individual's life. Those in the retail workforce are no exception to this change. This places unique challenges in front of HR in retail companies. Today, HR has to embrace technology as well as compete with it for keeping its relevance. It can no longer afford to simply tweak policies and programmes; the call of the hour is to Reimagine, Redesign, Recode HR Paradigms for the Digital Age. Read all about it in this Retail HR special issue...
Click here to download this issue
July - August 2017
After years of wait, On July 1, the Goods & Services Tax (GST) became a reality in India. There was equal parts excitement and trepidation in the minds of retailers. Confusion as well as misconceptions abounded. There was lack of clarity on various aspects of the law but principally around Reverse Charge Mechanism, Input Tax Credit and Composition. This issue aims to bring clarity on these and many more aspects of GST by explaining some concepts and busting myths. Read on to get insights from some of the foremost experts on the new tax regime.
Click here to download this issue
May - June 2017
With GST, BHIM-Aadhaar, the retail scene is really steaming up. But what is sizzling the most is the area of digital payments. So much so that 2017 will go down in history as one that changed the course of payments in Indian retail. The cover story tells it all. There's Reliance Retail 's experience using Aadhaar-based background screening for its employees , Ajmera Tyres retail journey, Wellness Forever's prescription to success, in-store social proofing, Ikea's groundbreaking ideas and Supply Chain. Oh, and don't miss the article on the Good & Bad of GST. There is a lot for you to learn. Download now!
Click here to download this issue
March - April 2017
Prime Minister of India Shri Narendra Modi has accurately summed up the contribution of startus to our society. "Startups have always been the engines of progress," he has said. It is thanks to startups that we can connect with anyone across the world (think Facebook, LinkedIn) or look up any information we need in a matter of seconds (think Google) or make payments in a blink (think paytm). The list goes on and on.
While startups are transforming every sphere of our lives and every aspect of trade and commerce, we bring you startups with great potential to create a roaring impact on retail. To find out who they are, dive into the issue.
Click here to download this issue
January - February 2017
Winning over the tech-savvy, 24/7 connected consumer requires the retailer to have a transparent agile supply chain, omni-channel capabilities, a digital-ready workforce and mobile-first strategy, in addition to other new-age wherewithal.
Every retail organisation seeking to satisfy today's customers, innovate and stay profitable, will need to work with a wide range of external partners, including competitors. Research establishes an 81% co-relation between collaboration in business and innovation.
Collaboration is the need of the hour, the way ahead for all. And it's an absolute must to not just delight but win over the Connected Consumer.
T o learn more about making collaboration work, read the issue
Click here to download this issue
November - December 2016
Sustainability has long been part of the corporate world's Corporate Social Responsibility mandate. However, retailers across the world are slowly realising the value of integrating sustainability into their business model and restructuring their businesses to become more environment-conscious. This is not only helping them augment their brand image in the eyes of the increasingly Eco-conscious consumers but also netting real-time monitory benefits. Where do Indian retailers stand with regards to adopting responsible retailing practices? Who are the early adopters? How are they benefiting ? All this and more in this Anniversary Special...

Click here to download this issue
September - October 2016
We live in a Volatile, Unpredictable, Complex and Ambiguous (VUCA) world. Everything around us is changing at break-neck speed.

As we move into the future, things will get even more complex and unpredictable. There only one asset other than technology that will help businesses navigate the future - people. Building a future-ready organisation also requires four other imperatives. All this and more in this issue. Dive right in...
Click here to download this issue
July - August 2016
The Digital India Programme aims to digitally empower citizens through broadband highways connecting all corners of the country by 2019. Thanks to the Digital India programme, and evolution in digital technology, the retail landscape of the country will be transformed, opening up interesting possibilities as well as challenges for retailers. The change is already underway, with leaders of retail having to rise up to the challenge of reimagining their businesses to survive the digital tsunami. However, it's easier said than done, especially considering the hype and information overload surrounding Digital Retail. It only makes matters more complex for the already confused retailers. Cutting through the haze, this issue of STOrai gives you the 7 imperatives of Digital Retail that will you understand the demands of digital retail and embrace it. Read on...
Click here to download this issue
May - June 2016
Who's disrupting retail? What are the factors? Is disruption nothing but glorified innovation? What's the appropriate response to disruption? All this and more in the Disruption Issue. In addition, read the story of Kaaryah, an RAI member and a disruptor in its own right; find out which retail start-ups Ratan Tata has backed and how artificial intelligence is changing the game…Click to dive right in
Click here to download this issue
March - April 2016
Digital innovations have changed the relationship between retailers and consumers forever. Consumers of today, empowered by the digital are a demanding lot and expect to be served at any time on a channel of their choice. They expect retailers to not just use technology outside of the store but also in the store to improve the overall brand experience. They are expecting retailers to merge the virtual and the real to create something spectacular, something that will make their shopping, indeed their lives, better. From their point of view, Connected Retail is really the next logical step in the evolution of retail.
Click here to download this issue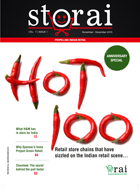 November - December 2015
Modern retail in India is an eclectic and interesting mix of old and new players, home-grown brands alongside international ones. Out of the thousands of retail brands spread across the country, there are some who stand out of the crowd, by their sheer capability to keep up and march on. They have been able to mould themselves to the changing needs of both the consumers and time. This Anniversary issue, we celebrate the spirit of such modern retailers in India; A salute to the 100 retail companies that have managed to survive the tough road and thrive! This is by no means a rating list but an alphabetical compilation. The Hot 100 retail store brands listed in the following pages are here not because of their stellar balance sheets or impressive network of stores, but because of their recall, visibility and popularity among customers.

In addition, the anniversary packs a punch with interview of H&M Country Head, a profile of Chumbak and lots more…Dive right in!
Click here to download this issue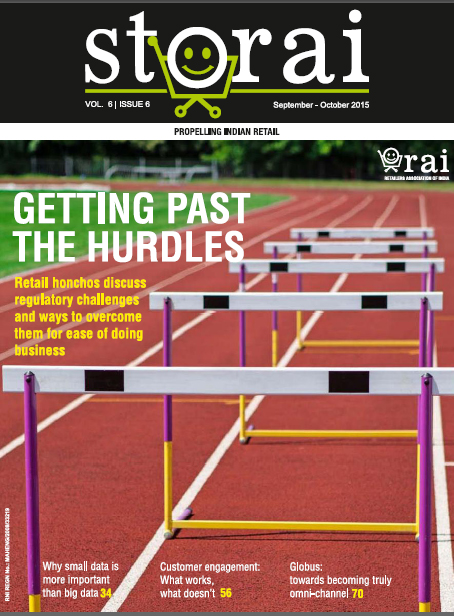 September - October 2015
The regulatory environment in the country is trying to catch up with the rapidly changing business environment. However, there still remain some gaps, which hinder business.
The challenges range from laws that are no longer relevant to differences in their interpretation. Business and legal heads from top business organisations speak about the issues they face suggesting what can be done to overcome them. An understanding of these is crucial to achieving ease of doing business today. The issue has this and lots more on analytics, omni-channel and customer engagement.
Dive right in…
Click here to download this issue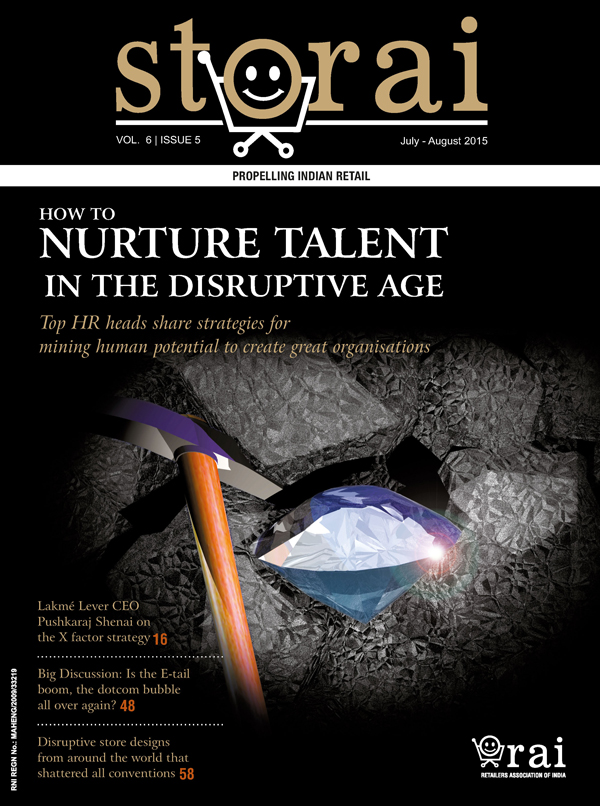 July - August 2015
The rapidly changing business environment is compelling businesses to transform themselves inside-out. Increasingly, the thrust is on getting the best people and then getting the best out of people.
Identifying and nurturing talent has become key. Consequently, the HR has to move playing a transactional role to playing a transformational one. In this issue we have invited the top HR heads of renowned retail organisations to share strategies for mining human potential to create great organisations. In addition, the issue is packed with thought-provoking articles and discussions around current topics such as Maharashtra Retail Trade Policy, E-commerce and the Noodles controversy.
Click here to download this issue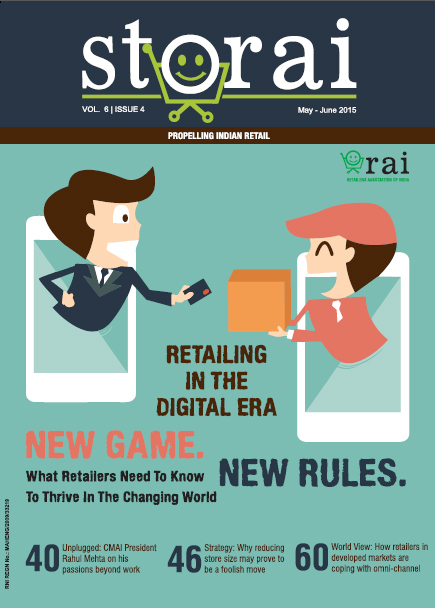 May - June 2015
Digital has changed our lives and disrupted businesses. And it continues to change every aspect of retailing from procurement, stock-keeping to movement of goods, marketing and payment.
It's important that retailers understand how digital is changing shopper behaviour and preferences.
But it's imperative for them to use digital means to conduct business both internally and externally.
Retailing is no more what it used to be. Therefore, the old rules of the game no longer apply.
Click here to learn the new rules that apply…
Click here to download this issue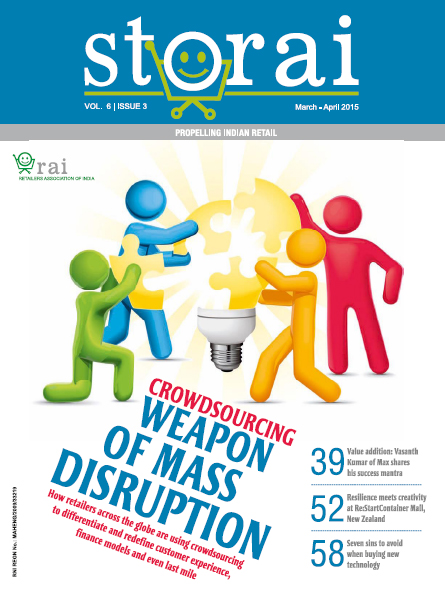 March - April 2015
Consumers are not just driving the transformation that is sweeping retail, but also are participating in it through Crowdsourcing — a concept that is changing the dynamics of the relationship between businesses and the public. Crowdsourcing is redefining several areas of retail – funding, marketing and logistics, giving a new meaning to the phrase 'public-private partnership'. Is it just a passing trend or a new paradigm?
Read on to find out…
Click here to download this issue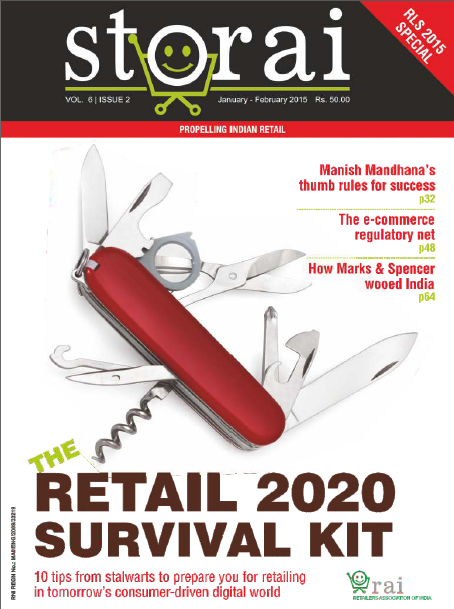 January - February 2015
In the next five years, everything from technology, customers, expectations, life-style, social environment — will be different. Needless to say, retailers that are prepared today will reap huge benefits. This issue of STOrai is designed to help retailers understand the trends and the demands of retailing In 2020. The survival guide contains practical, no-nonsense advice from retail stalwarts who've managed to always pre-empt change and stay ahead of the pack. Though it is branded as a survival guide – the tips will help retailers thrive, not just survive. Read on to discover what else the issue has in store…
Click here to download this issue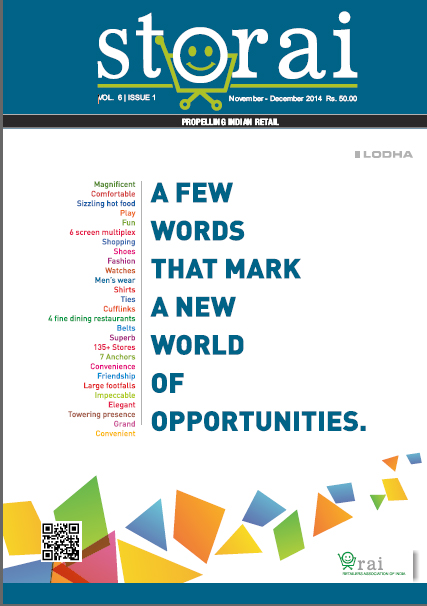 November - December 2014
This is STOrai in its new avatar. And it is packed with interesting and insightful features.
From a curated listing of vendors to help your business, profiles of national and international achievers, expert interviews to strategies of the industry's top CEOs – this cart is loaded with relevant information. The cover story brings to you the immense potential airports hold for retail.
To know what's more in the new STOrai…read the full issue
Click here to download this issue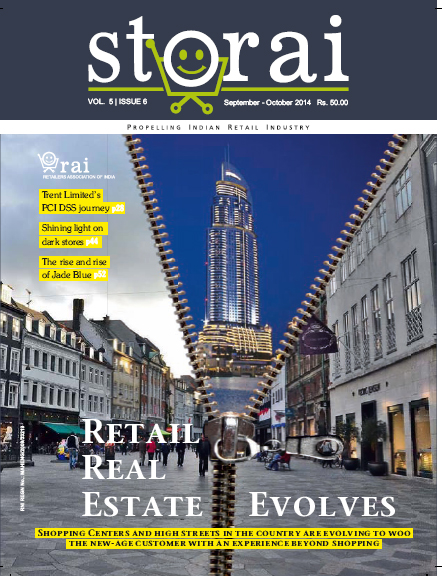 September - October 2014
Over the last few years, a lot has changed in retail: not just the way retail is done but also where it is done. Box-like malls have given way to open, inviting shopping centres; large-stores are retailing side-by-side pop-kiosks and carts; so much so that the high streets too have changed to accommodate newer trends. Today, it's not just about finding the right location for a retail business at the right price but also about offering the right experience.

The increasing pressure on cost of real estate has given way to newer models of collaboration between retailers and real estate owners. There is a definite wave of transformation passing over retail real estate in the country. This Retail Real Estate Special traces the current trends in retail real estate, where is it moving, what are the pain points of the stakeholders, and the new strategies being used by property developers to attract the end consumer and how e-commerce is affecting it all.
Click here to download this issue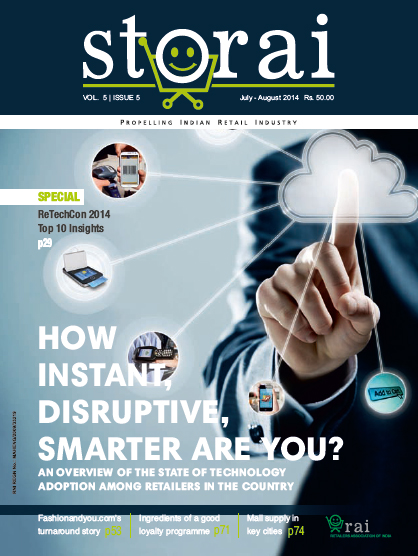 July - August 2014
Technology is more than an enabler: It's the tool that could help you be a game changer. But how well are Indian retailers using it to their advantage? Are they using it to its full potential? The issue focuses on technology in retail, giving an in-depth and accurate picture of the rate of technology adoption among retailers. Also in the issue: Fashionandyou.com's turnaround story; mall supply trends for the year; Ingredients of a good loyalty programme and much more.
Click here to download this issue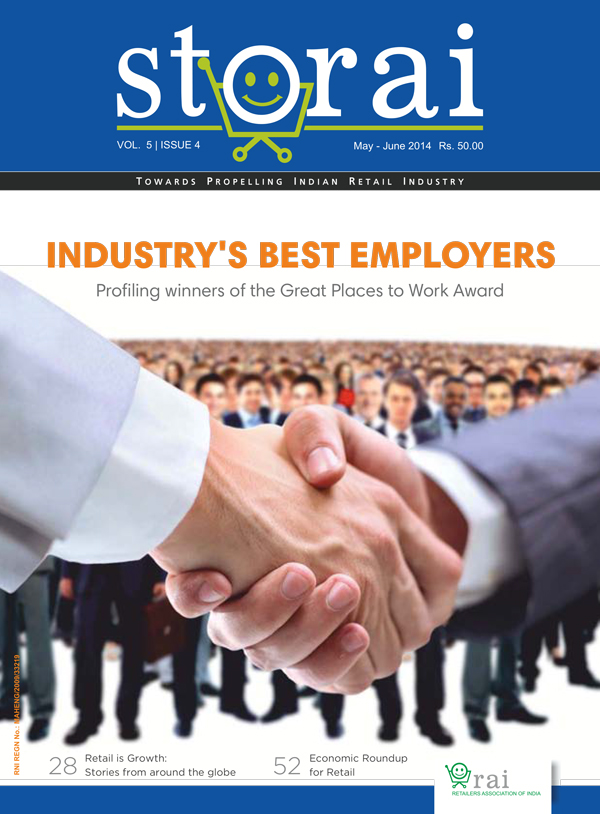 May - June 2014
This issue focuses on the 10 best retail workplaces for 2014, based on a study undertaken by RAI with The Great Place to Work Institute. Other interesting features include: Top Trends that will impact retail; E-commerce Benchmarks of Indian Department Stores; a summary of statistics relating to the retail sector outlook in India and much more.
Click here to download this issue